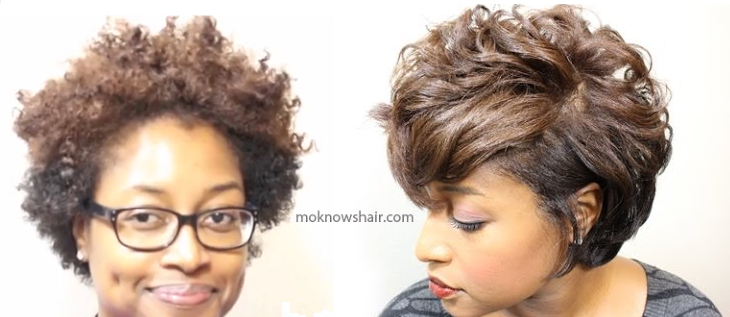 I love a good flat ironing tutorial. Not only is it a great way to switch up your look but it's also showcases the versatility of natural hair. Now when you combine a simple flat iron* with the unique talents of YouTuber MoKnowsHair, well you know you've got something special!
In this video, Mo flat irons* her friend's 4a TWA to a sleek sexy look. The style has actually been cleverly achieved with some intelligent curling that makes the hair appear shorter at the back than at the front including some tucking.
Watch the video below:
She made a couple of really important points in the video that are worth repeating (to drive the point home you understand).
1. Prepoo – Very important when you plan to flat iron* your hair. Flat ironing is a huge stress on natural hair and anything that you can do to increase the amount of moisture content in your hair before you begin the process is a huge plus. Pick from one of our unique prepoo recipes or else just use conditioner and coconut oil* like in the video.
2. Rinsing with cool water – Another excellent way to lock moisture in. Rinsing with cool water effectively closes your hair's cuticles keeping the moisture in and also increases shine in your hair. It works on the same principal as the "cool shot" setting in your hair dryer* which also helps to close cuticles.
3. Flat ironing in small sections – So important for kinky* type 4 hair to ensure a smooth silky finish from root to tip. If you are flat ironing your own hair I would suggest that you do not grab a section of hair larger than an inch in width and only 1/4 inch depth. Sure it will take longer but this process will allow for even heat distribution and ensures that you will be able to use a lower temperature with excellent results!
Some of the products used were the FHI Platform Flat Iron 1 Inch, Conair Pro-Style Bonnet Dryer & Agadir Argan Oil Hair Shield 450.