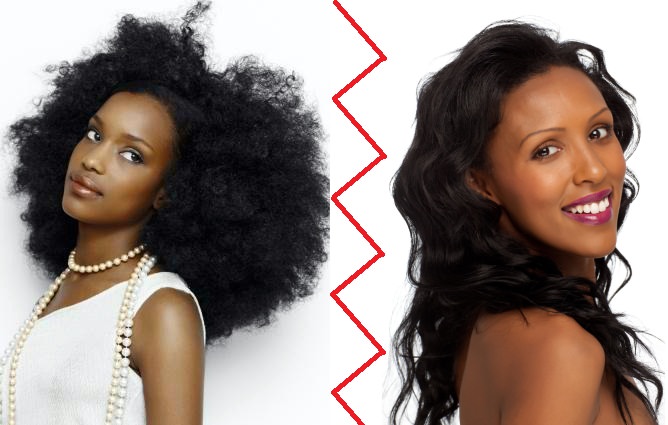 If we focused on just hair care alone, we can find many differences between how a 'Natural girl' takes care of her natural hair and how a 'permed girl' takes care of her hair. What if for once we looked at the similarities between the two with one goal, healthy relaxed or natural hair? Here are 4 major similarities between both 'types' of hair :
1. Moisture
Whether your hair is relaxed or natural, the role of moisture is vital to the health of black hair. Relaxers essentially straightens the hair to the point at which it can become dry brittle and very prone to breakage. Natural hair because of the very nature of the hair needs a ton of the moisture to prevent single strand knots split ends and breakage. For both scenarios moisture needs to be added frequently either through the application of water based products or plant based oils* that penetrate the hair strand and help maintain moisture levels. Tips for both: Co wash often (once per week), do heatless styles such as braid outs, twist outs or curl formers, use sulfate free shampoo* that do not strip the hair of its moisture, clarify the scalp as necessary.
2. Protein
Any natural will tell you that if you have fine porous strands, protein is your best friend! What is more interesting if you talk to a relaxed girl on a healthy hair journey, she will tell you that protein is her best friend as well! Protein is the building block of the hair strand despite what process it has been through if gives the hair the strength and structure it needs to withstand daily wear and tear. Tip: if your hair is relaxed doing a mild protein treatment every week as part of your deep conditioning* regimen is recommended. If you have natural hair that is fine and highly porous adding protein to your weekly deep conditioning* regimen is also recommended. Proteins can be natural in the form of eggs or yogurt for mild treatments, other treatments that are intense can be done once a month. (Aphogee* protein treatment)
3. Clarifying
Scalp health is just as important as hair health, keeping the scalp clean and free of buildup only helps your hair stay healthy. Usually your hair will tell you if it feels gunky but a once a month regimen for intense clarification can only aid in the goal of health. Whether your hair is relaxed or natural clarification of the scalp is a necessary step and cannot be avoided. TIP: An ACV rinse is great for clarification, use an applicator bottle* or spray bottle to apply the diluted apple cider vinegar* to the hair then wash as normal.
4. Trimming
Sometimes split ends, knots, and frayed ends cannot be avoided due to the nature of the hair. Trimming the hair keeps your ends blunt and healthy looking. There are no rules when it comes to trimming the hair just do not avoid the process. Tip: sometimes it is easier to use the search and destroy method to get rid of knots, splits and anything that looks crazy. This method can be used in both scenarios and many women have reported maximum length retention from using this method.
These are just a few similarities in hair care that have erased the lines dividing how relaxed hair is cared for in comparison to naturals, there are many more similarities can you identify any?