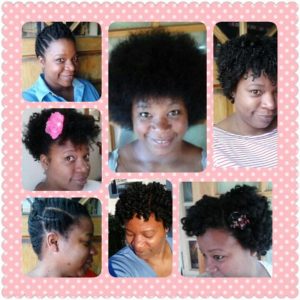 Introduce yourself . . .
Hello, My name is Dabney Ross Jones From Temple City California. I have been Natural since 1991. I chopped my hair off after high school and have never looked back!
Are you relaxed, natural, texturized or texlaxed?
I wear my hair natural. Over the years I have dyed my hair, pressed it, and wore braids. I can't perm my hair because of my hair texture. It simply doesn't like the chemicals and breaks off very easily.
What's your story, how did you get to where you are?
My hair was greatly misunderstood by most of my family. It was never very long, and as a kid I got teased a lot for this, kids can be very cruel.
My mother tried to perm my hair but it completely fell out. We had to regrow my hair from a small TWA when it wasn't cool for a fifth grader to have one.
I have hated and loathed my hair and then one day when it did grow back, my mom was pressing and burned my on the side of my face at the temple. The scar is still there! From that point, I took control of my hair. I love my mom, but I had to figure out how to do my hair, I was ahead of my time.
When I was young I tried twisting my hair and rolling it with creams and conditioner and of course, I went to school and the kids made fun of me.
I had a series of Jheri curls. I managed to find a way to style them so they didn't look so greasy! After High school, I was done! I told my aunt to cut it off! I wore the TWA and people thought I was crazy! I was constantly called bald headed by kids who didn't understand why I would cut off my hair.
I learned how to braid my hair with extensions* and would alternate between the two. Yet, I never allowed my hair to grow out to amazing lengths. I just didn't believe it would do that. After a very bad dye job, my hair started to break, I didn't understand why, It literally grew and broke off. I had to do a double big chop.
On a trip to Salzburg, Austria, My second big chop began to grow back. It was a combination of exercise, eating right, and the extreme humidity! My hair was lacking moisture!!! When I came home, I decided to learn about hair and discovered protective styling, moisture protein balance and conditioner washing. My hair is now growing and is on it's way to my goal of shoulder length!
What is your typical weekly regimen?

Wash day is my favorite day! I mix a prepoo treatment of Honey, olive oil* and coconut oil*, I heat it and apply it to damp hair and sit under a dryer for 30 minutes. After that, I rinse it out and then take Trader Joes Nourish and shine shampoo and dilute it in a bottle with water.
I do one wash with that and then I co-wash my hair. I have also included the oil rinsing to my cleansing process. For oil rinsing, I use olive oil* mixed with Wheat Germ and castor oil*. I drag more conditioner through my hair and then rinse.
I deep condition every week. It has been a hair saver. I alternate between protein and moisturizing to keep that balance. But mostly, I use a moisturizing deep conditioner*, any brand will do.
After I rinse the conditioner out I part my hair in sections and begin the L.O.C. Process. I use Castor oil* on my hair and have been using Camille Rose Curlaide for my cream. The combination of the two have proved very beneficial to my hair!
Are you happy with your progress so far?

Oh my God yes! This is the first time I have had a "process" I took a lot of things for granted since first going natural. I used oils as moisturizers not realizing how backwards this was!
I would get frustrated and chop my hair off constantly! This year I have only had to trim my hair twice! It is significantly softer and people are constantly asking to touch it! (I try not to let them but I am very proud of it's texture)
What's your signature style?
I use to rock a style called the "twist and tuck". With all the pictorials and Youtube videos, I have been experimenting with a number of protective styles! I love flat twist updos! I have a nice head for them and they last a long time!
How do you ensure that your ends are protected from the elements and your hands?

Being a sufferer of Hands in Hair syndrome, I try to keep my hair in intricate flat twist hair styles. I also have another tip. I bought my self a Barbie doll styling head. When ever I get the urge to play in my hair, I pull that doll head out and practice potential hair styles on her head.
I use to love brushing my hair, I brush the Barbie's head! I practice flat twisting, rod sets, you name it! I also practice the ukulele and the violin, Anything to keep my hands out of my hair!
Do you have a goal length or are you more concerned about the health of your hair?
At first I was concerned about the health of my hair. I just wanted it to not feel like paper! Once I started seeing all of these beautiful pictures of Naturals growing out there hair to amazing lengths, I was inspired to allow my hair to grow out to at least shoulder length. It has never been shoulder length, so that is my goal.
Is there anything that you hair hates?
My hair hates Perms and hair color. I promised my hair that I would not put it through that ever again! Although, I start to waiver when I see a really good dye job!
Do you have any favorite hair products?

My favorite hair products are Camille Rose Curlaide, As I am Leave in conditioner, Herbal Essence Hello Hydration conditioner, and Trader Joes Nourish and Shine conditioner. And of course, castor oil!
Where can we find you online?
I am on twitter @sopranodabney, instagram @blackredhead73 and I have an epic Pinterest page on Natural hair! I Also have a blog; "1973 Dabney Street"