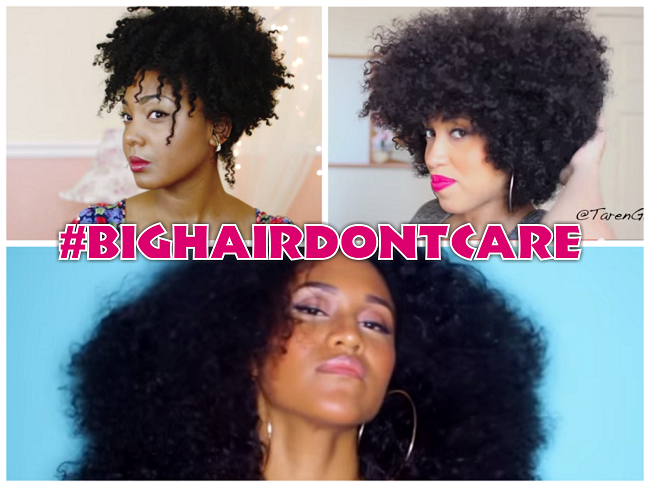 Big hair is in girls, it is making its enormous presence in the natural hair world from the red carpet, the runways and on our favorite natural hair rock stars. The bigger the better and even the kids are getting in on the fun with scores of kids on Instagram or Facebook with fros bigger than their little bodies.
I know, I know, most naturals are still captivated with length, length is still #1 on the desire list for women, but there are women with a love and desire to have the biggest, baddest tresses around and you can't be left out this spring.
We know everyone wants to change things up when the weather gets warmer and as you work harder to look amazing in your bikini you should be working on a new look for your hair as well.
You could color it or look for new styles but what about just doing it up a bit with some volume? Big hair is big this year and as more women embrace their natural tresses they also need to embrace their length and have fun with it. If you want to see some video tutorials on how to get some big sexy spring time hair, just keep reading:
First up – Taren Guy – Deva Hair Cut
Taren Guy is amazing and as a natural hair expert with gorgeous curls, she's a great person to use when you want a gauge on what's hot in the natural hair world.
She's a fan of big hair and in the video we are about to share, she not only discusses her new deva cut but delves into the obsession many naturals have with length and why she's not on that path. Her hair grows like a weed but her hair goal is not triggered on how long she can grow her hair but how big she can wear it.
Check out her video below:
Second on the list is India from My Natural Sistas – How to do a big kinky* curly puff on short or medium length natural hair
Not all naturals want to protective style in hopes of growing their strands down to their butts and just because you choose to wear it out (and big) doesn't mean you won't retain length either.
India from My Natural Sistas recently cut her tresses and is now on the 'fake it till you make it' bandwagon. India goes from twists to a faux puff and begins volumizing her hair with a pick and her fingers. Curls? Who needs curls? It's about volume ladies!
And finally -The queen of Shamelessness – Shameless Maya – Big Hair Don't Care
So you want Diana Ross hair? Yup, me too, and that means embracing the frizz and not seeing it as a problem. Shameless Maya figured that out last year and that curl definition is being stressed too much and is kinda BORING. Go for the big, ultra big hair instead of trying to achieve a curl cause that ain't hot anymore. Maya shares a few techniques on how she can get the big hair that is ever so sexy.
Big hair is in naturals, have fun this Spring!