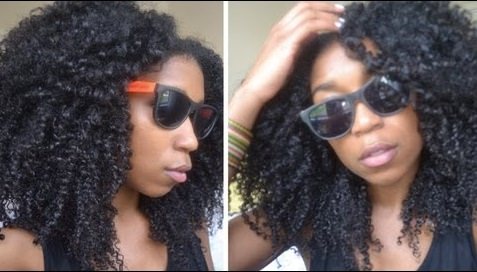 Looking for a cute signature style for the summer? Want to have beach ready curls and don't want the hassle of a wash n go (if you even DO wash n go's)? Natural hair vlogger Naptural85 gives us a quick and easy way to achieve beach ready curls. It works for almost any hair length, and you can take it down and redo it every day as you wish.
What You Need:
►Conditioner
►Your favorite oil (or oil mix)
As she demonstrates in the video, all you need to do is get in the shower and co-wash your hair. Section your hair, wash, and detangle with conditioner still in your hair. Rinse out the conditioner and grab your oil. Run it down the length of your hair from ends to root. You can detangle a little more with the oil in your hair while standing underneath the water.
Separate your section into two and begin twisting. Once you've completed the twist, twirl the bottom and wrap the twist around itself to create a Bantu knot. Repeat this around your entire head. Afterwards, dry your hair by wrapping it in an old T-shirt (use a T-shirt instead of a towel to reduce frizz!). Let the towel soak up the majority of the water, she has longer hair, so she left it for about an hour; if you have shorter or thinner hair, you may have less drying time.
Once you take off the T-shirt, unravel each bantu knot individually, stretch it, and pin it to the other side of your head with a bobby pin. This will stretch the style as you let it dry completely overnight. Wrap it up in a silk scarf* then hit the sheets!
When you take the style down the next day, make sure to rub oil in your hands to prevent frizz. Separate each twist and gently pull the curls away from each other to fluff out the style. And you're done!
This style is great for ladies with tighter curl patterns, because it helps stretch and manipulate the curls overnight. However, it'll work great for any naturalista that may be short on time or that goes to the gym frequently, because it doesn't take a lot of manipulation or even skill. This is something that I'm definitely going to try ASAP!
What's your favorite summer hairstyle?