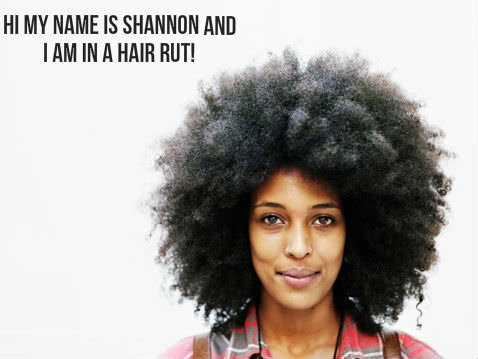 After that new new is over and the joys of learning about healthy hair wears off, you have gotten your regimen down pat and the dust settles you might find yourself wondering: What's next? You know what products work for your hair, you have earned its schedule, what it likes and what it doesn't and have mastered the consistency that leads to retention.
Protective styling can leave you feeling like all of your hard work is for nothing because your hair is almost always tucked away. You see results only long enough for them to motivate you to put your ends right back where you found them. Here's the magic hair journey question: if you're always making sure your hair is protected so that it stays healthy, then when do you have time to actually enjoy your progress?
If this sounds like you, then you might have found yourself in the midst of a hair rut. Sometimes it's the price you have to pay to get your hair back on the right track, but like everything else in life it's important to remember to let your hair down literally, and have some fun with it too.
Fear not, it happens to the best of us and it can be frustrating because no one wants to be bored with their hair and at the same time unable to maintain the consistency of healthy hair practices. This is especially true if your journey is one marked by the desire for length retention.
Luckily, there are some easy and non damaging ways to switch things up when it's time to enjoy your hair for a little bit. Check out these five:
1. Temporary Color
Sometimes a boost from new color is just what you need to revamp your hair blues. There are lots of different products on the market that offer this option without the long term commitment and the long term damage. If you want to try out a new look but are scared of either one of those options then it is time to kiss your worries goodbye.
Products like Streaks 'N Tips or Jerome Russell B Wild Color Spray can provide a great range of colors to try. Plus, if you don't like it, you can wash it right out! There are even more muted colors in the blonde and brown families in case neon pink isn't really your thing.
2. Quick Ponytail
All you need are some bobby pins* and a little edge control to put you on the path to a totally new look. There are so many different textures and lengths weave ponytails can offer, while still maintaining your precious ends. Another great thing about this option is that it's affordable. You don't have to shell out big bucks to achieve this style and there are so many different options for this look: high ponytail, side pony, bun, the opportunities are endless.