Just yesterday I was telling my mom that I had no gray hair not even one strand to boast about. I have to admit if I found one, I would not be too sad about it, but I find that I am more aware of the possibility of having gray hair more so now than I ever have before.
I know I am not the only one who thinks about getting older and wouldn't mind putting off some of the things that come with it for just a little while longer.
As you age it is only natural that you start to get anxious about the various things that happen that can "tell your age" before you even open your mouth to blow out the candles year after year.
Of course there are the unlucky few of us who gray early and so the theory of getting older automatically means that you are old does not hold true for all of us. Of course there are other indicators too, sagging body parts, being prone to injury, wrinkles and skin that does not quite seem to bounce back the way it used to.
The truth is there are times in our lives where we feel invincible and ageing doesn't matter too much and then there comes a time when we are sort of aware that we have to do more to maintain our body and stay healthy and more "elastic-ky".
With that said as we get older I think what we put in our body is even more important than what we put on our body and that includes our hair.
Nourishing from within is a thing
Nourishing from the inside out becomes even more essential because we all know that we can only highlight, contour and weave up so much. At some point we will have to face what our entire body is doing and give it the best shot at being its best self.
So these days I am all about focusing on what I put in my body to improve its function especially since my body, skin and hair expectation goals don't change just because I have had yet another birthday.
Everyday is a struggle though, this stuff isn't easy because as I mentioned, when you are young you feel invincible and you develop habits that lend themselves to those super powers.
Trying harder means doing more, breaking old habits and focusing on health from within to improve every area of our lives. Around here we love to talk about hair, healthy hair that looks and feels great helps us to look and feel younger and so how we feed and supplement our body so that it affects how our hair looks and feels?
Focusing on Vitamin C
I have done a lot of research about the various foods and supplements that aid in over all health and healthy hair. One of the vitamins that I have been very focused on in the last few years is vitamin C. As a matter of fact if I look at a product for my skin or hair that has a healthy dose of vitamin C in it, I am already sold regardless of the price.
For this post I want to focus on Vitamin C as a supplement because it has done wonders for my hair because of the role it plays in cell regeneration, blood circulation and iron absorption.
What is vitamin C anyway?
Vitamin C is also known as ascorbic acid and it is a water soluble vitamin that is typically used to build the immune system because it is a powerful antioxidant. It helps the body to maintain its connective tissue which also includes bones, skin and blood vessels.
Generally it protects against heart disease, it helps the body to absorb iron and prevent scurvy, and a variety of cancers by eliminating free radicals and some of the nitrites found in the process foods that we eat the cause some form of cancers.
Of course if you have moved away from mom the first thing she will tell you is to make sure you get your vitamin C in so that you can avoid catching a cold. This is no old wives tale, as I mentioned vitamin C can build your immune system making you virtually resistant to the common cold.
Now we can all appreciate all the great things that Vitamin C does for our body but…
Specifically how can it be beneficial to our hair?
1.
Hair growth
---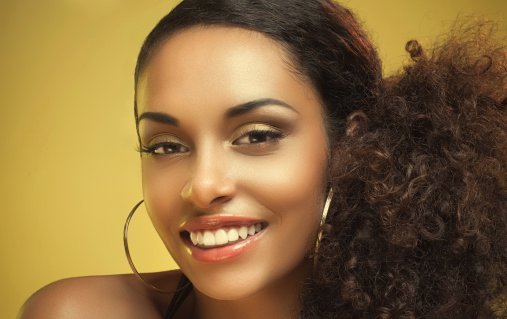 Vitamin C is essential to hair growth and hair strength because it aids in cell regeneration. Think about it, when your hair grows it is basically as a result of cells growing and translated to hair growth, it helps to cause the side effect of meeting all of your #lengthgoals.
2.
Thicker Hair
---
Vitamin C is vital to increased circulation overall and that includes in your scalp. This means that your hair follicles are healthy and it heals the blood capillaries in around the follicles are providing enough nutrients which leads to stronger thicker strands.
3.
Hair loss
---
Increased circulation leads to less hair fall because your follicles are stronger and can hold on to your hair longer in a way than it wouldn't if your scalp was not healthy.
4.
Prevents Gray Hair
---
Remember earlier when I told you my mom and I were talking about the fact that I do not have gray hair? Well she shared with me that she did not start graying until she was in her fifties.
Let me tell you I low key got happy, because that meant I had at least 20 years possibly, if genetics hold true that is. What you should know though is that vitamin C prevents premature graying, which means you get to retain your pigmented strands longer which is a plus for many of us.
5.
Overall hair health
---
New cells mean stronger cells and stronger strands which means healthy strong growing hair. However one very important thing we have to mention is the role of iron in maintaining healthy hair.
Iron absorption is the key to healthy hair because it prevents fatigue and weakness. When you lack iron you can develop anemia which can cause hair fall. Vitamin C helps the body to absorb this very valuable mineral which is where healthy hair comes from.
Are you taking a hair vitamin?
If you are experiencing hair loss or you just want to improve growth in your hair you might be thinking about supplementing your diet with a hair vitamin. You might be that girl that eats healthy very regularly you may still need to supplement to ensure that your hair is getting all that it needs to meet your goals.
There is nothing wrong with adding a great vitamin to your regimen but it is important to know what is in the vitamin so that you can determine if it is the right one for you. We recommend Elongtress Hair Vitamins as they are specifically formulated for healthy hair, skin and nails.
A great hair vitamin will have all or more of the following ingredients, all of which are in Elongtress Vitamins:
Vitamin C (as ascorbic acid)- at least 400 mg
Vitamin E (as d-Alpha tocopheryl succinate)
Vitamin B6 (pyridoxine hcl)
Biotin
Zinc (citrate)
Copper (cupric oxide)
Manganese (gluconate)
Silica (bamboo stem extract)
Notice, that Vitamin C is at the top of my list? These days we have to make special effort to take care of ourselves in more ways that we ever have whether we are young or old so eating healthy staying active and smart supplementation is imperative. Get those C's in!
Elongtress Vitamins are a high strength formula that helps you achieve healthier longer hair from within. The 2 per day formula is suitable for all hair types providing you with all you need to achieve your hair goals.
Disclaimer: This is a sponsored post which means that BlackHairInformation.com may have received compensation for including it on our website. For full details please view our Disclaimer statement and Affiliation disclosure .