Introduce yourself . . .
I am a Marketing Analyst and a natural hair blogger. I thrive to uplift other black women as they go through their natural hair journey. My blog is www.glamnaturallife.com . I am a free spirit and lover of all things natural. I have been natural now for almost 2 years.
What's your story, how did you get to where you are?
Mmm. Well my friend first went natural. I loved it on 'her' but I thought it's not for me. I have always been perming and getting extensions*. My first perm was when I was 8yrs old. I saw my new growth after I took my last extensions* out and it dawned on me that I did not remember what my natural hair looked like. I transitioned for about 2 months then gave up. I took the scissors and chopped a little piece in the middle and then it was all gone. Lol!
It was the best feeling in the world. Not sure if I can explain how I felt. One thing I can say is: 'I saw a different kind of beauty as I stared in the mirror'. Best decision I ever made.
What is your typical weekly regimen?
Cleanse:
Shampoo with Shea Moisture Curl and Shine shampoo or cowash with As I Am Cowash or Shea Moisture* Cowash
Moisturize using the LOC method.
Liquid: Water or hair mist or a light leave-in.
Oil: Coconut Oil*
Cream: SheaMoisture Curl Enhancing smoothie or Taliah Waajid Curl Cream.
Style:
Braid and let it air dry. Re-braid at night and sleep with satin bonnet*.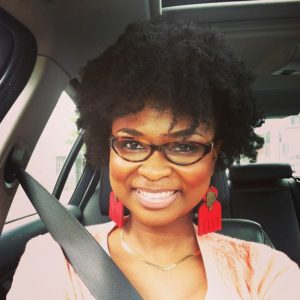 Are you happy with your progress so far?
Yes. I am. I have never had such healthy hair. My only drawback is that I do have the Hand In Hair Syndrome. Lol
What's your signature style?
Braid outs all day!! Lol! An afro puff if I did not re-braid my hair from the night before.
How do you ensure that your ends are protected from the elements and your hands?
This is a struggle for me. My hands find ways to get to my hair. However I do try HARD to keep my hands out of it. At night I braid so that my hair is not all over the place and vulnerable to breaking.
Do you have a goal length or are you more concerned about the health of your hair?
I would say both. I am at shoulder length now but would like to be at arm pit length in 6 months or so. Pray for me. Lol!
However healthy hair is the first goal. Without that length cannot be achieved.
Is there anything that you hair hates?
Not really. Most products work with me even if its by using it in ways not printed on the packaging. I just have favorites.
One thing my hair hates though is Wash n' go's. I have never successfully pulled it off. My hair rebels by tangling up and creating single strand knots EVERYWHERE!
Do you have any favorite hair products?
Everything from SheaMoisture Coconut and Hibiscus Line, and Shea Moisture* African Black Soap* conditioner.
Also I love Taliah Waajid Curl Cream. Recently bought it and so far I am in love.
Where can we find you online?
Check out my:
Blog: www.glamnaturallife.com
Facebook: https://www.facebook.com/GlamNaturalLife
Twitter: https://twitter.com/GlamNaturalLife