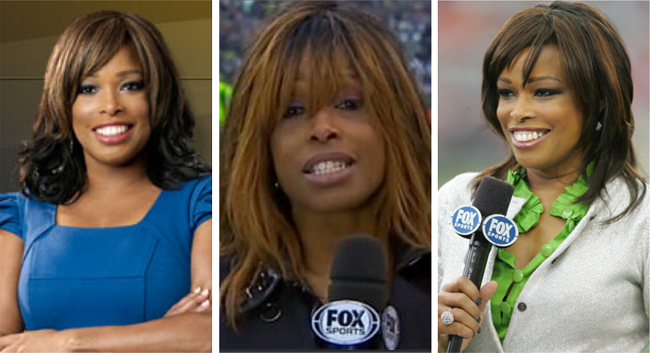 Ok so I watch football, after all I live in a house full of boys so football fever was bound to catch me at some point. It's ok though, I'm not fighting it, I still wear pink and I love lip gloss.
If you happen to watch the games you must have noticed Fox Reporter Pam Oliver talking to the hottest players, figuratively and otherwise getting the best stories for her news station.
Now Pam has hair, much like her other female colleagues on the field, however 'we' tend to notice her hair more so than we ought to, the focus is probably less on what she is saying or even who she is speaking to but more so on that one strand that seems out of place, in 20 degree weather, fans screaming and with the wind blowing. #focus
The Super Bowl was no different and as a matter of fact because it was a wider audience, along with the ratings, critics were on fire. Pam wore a two toned blondish wig* on the big day and has been compared to countless things including Chewbacca which for me personally was a dig at more than her hair #justsayin.
It was so terrible that her hair was actually a trending topic on twitter at one point on Sunday #shameful We loved Pam's response to the social media outburst, she did an interview with Philly news and here is what she had to say:
This whole thing is just comical.

I wish it were so easy. It's a process. I do my own hair and makeup – insert joke here. I'm up early. I'm at the stadium about 4 hours before the game, just going over some last-minute stuff and then waiting for some players to come out, which is generally 2 hours before the game.

You're out there, trying a to catch players, get some last-minute stuff, get your reports turned around quickly, and I may or may not have time to put on lip gloss or powder my face.

I know TV is a visual medium, but there are times when you kind of hope that people are listening to what you're saying as opposed to judging you if a strand of hair is not in place or if you have only got one eye lined or something.