Introduce yourself . . .
Hi I'm Shanique aka Journey2WaistLength. I'm from Toronto, Canada & I have been relaxing my hair for over 17 years!
Are you relaxed, natural, texturized or texlaxed?
Relaxed/Texlaxed
What's your story, how did you get to where you are?
July 2010 – I was very bored with my uneven thin V shaped SL/APL hair. Did some browsing and came across a community of black females with long healthy relaxed hair and…fell in love. Thats when I decided to start a hair journey
What is your typical weekly regimen?
► Deep condition every other week rotating between a light protein and a moisturizing conditioner*
► Moisturize and seal every other day
► Air dry with every wash
► Use a light protein spray after every wash
► ACV rinses with every wash
► Protective style daily
► Shampoo only when there is build up
Are you happy with your progress so far?
So so. I have had many set backs. Had a scissor happy stylist. I would of been WL by now. Overall I've come a long way and my hair is doing much better
What's your signature style?
My signature style is sort of a half up down braid out with two flat twist at the front of my head. Kinda hard to describe, but I did a video on my channel called Twisted Braidout.
How do you ensure that your ends are protected from the elements and your hands?
► Protective styles
► Minimize heat
► Weekly deep conditions
► Moisturize and seal often
Do you have a goal length or are you more concerned about the health of your hair?
I do have a goal length. My goal is to be full waist length. I worry more over the health of my hair verses the length. If my hair is healthy, the length will come.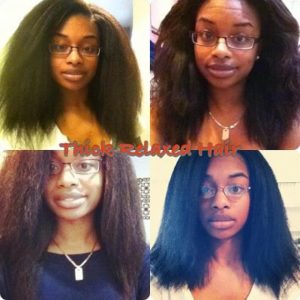 Is there anything that you hair hates?
My hair hates water based leave ins (like those really watered down leave ins, if you know what I mean lol) They do absolutely nothing for my hair. My hair gets so dry after using them.
Do you have any favorite hair products?
Yes, I do. My favorite leave in right now is my moisturizer/leave in mix (video on my channel) That leave-in leaves my hair so soft and very manageable. Im also loving grapeseed oil*.
Where can we find you online?
Youtube – youtube.com/youngebz07
Instagram – @Journey2WL
Blog – thickbeautifulhairjourney.blogspot.ca
Facebook – facebook.com/youngebz07