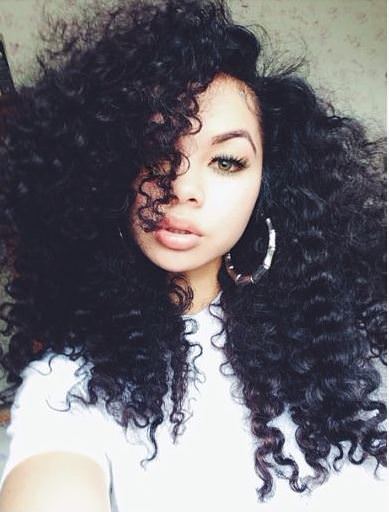 If you are in the hair growing business and you have curly hair, you might notice that one side of your hair is longer than the other, and you might wonder why and what you could possibly be doing to cause it.
At first thought you might say that it must be based on bad hair practices and that the reason you are not retaining length in one area is because you are directly affecting that area some how.
In this post we want to take a critical look at uneven hair growth in curly hair and figure out what we can do about it.
What is uneven hair growth and what causes it?
Put simply it is when one side of your hair or one section of your hair is growing at a slower pace than the other. This can be confused with choppy areas where you might be experiencing severe breakage but know the difference between just plain uneven growth and breakage.
Breaking and split ends look dry, and in need of care, when one side of your hair is just shorter than the other, all of the hair on one side will still be healthy and even just not as long as the other side would appear.
The causes of uneven hair growth vary, it can be based on what you eat, your stress level, a bad hair practice or good old genetics. To determine where you fall, look at your hair care first, if your hair is healthy, look at your lifestyle and stress level then check with mom or dad to see what there thoughts are on it and how their hair grows.
How to combat uneven hair
To take hair care out of the equation would be ludicrous even if genetics is the cause of the uneven growth. If you care for your hair properly you can retain length on all sides of your scalp which is what you want when you are growing out your hair.
We suggest taking a multi vitamin or even a hair vitamin to keep your hair healthy so that whatever nutrients you are missing from your diet, you can get it in supplement form.
We also suggest watching your diet and lifestyle, if you eat well your hair will respond well. Everything you need for healthy shiny growing hair is in your food. Try to eat as much raw organic produce as you can to ensure proper nutrition and do fun things to keep yourself stress free.
One more thing, use rosemary oil* and other oil stimulants like castor oil* to massage your scalp and encourage hair growth especially on your 'short side'.
Do you have uneven hair growth? – How have you been dealing with it?