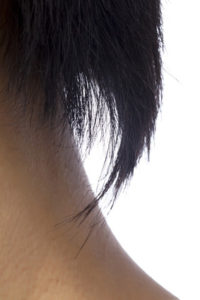 Have you ever done a length check and noticed that your nape hair is shorter the other sections of your hair? Does the hair at your nape seem to break off the most even though you are doing everything right in your hair regimen?
If this is the case for you then a fragile nape can possibly be the cause. For most of us, our nape is the most fragile part of our hair and because of this it is the most prone to breakage.
But do not fear, below we have listed four reasons of why your nape hair is not retaining length and solutions that you can add to your hair routine to keep it in tip top shape!
1.The Problem: Softer more delicate strands at the nape
For most of us our nape hair can be very "silky" and have a delicate feel to it, some even have a completely different curl pattern in that area. These are definitely characteristics of super fine hair that is common to many of us.
While the texture of the nape hair is not necessarily a bad thing, the high chance of breakage occurring within the nape section is. This means that we have to treat this section as it is "delicately".
The Solution: When you do any sort of manipulation with your hair whether it is detangling or oiling, you have to treat your nape area like a newborn baby.
It is very important to reduce as much mechanical damage and trauma to this section as much as possible in order to reduce breakage and retain length. When detangling your nape, try to exclusively finger comb this section.
Apply your conditioners, leave ins, creams, and oils* with light strokes taking special care to not pull and tug while you are doing so. When shampooing your hair, do not scrub your strands together while sudsing up, just rub your hair in one downward direction to prevent unnecessary damage from happening.
For even less damage while cleansing or rinsing out treatments, rub your hair with the flow of your water source. This will not only be a gentle method for your nape but for other sections of your hair as well.