Thinning edges is a problem that a lot of naturals run into at some point in their journey. No matter what is causing the issue, it is common and most times can be easily fixed with proper care and consistency.
There are a number of reasons why your edges could be thinning and some of them are unexpected! Here are 5 common causes for thinning edges and some tips to help you nurse your hair back to health.
Hair Gel
Often times when we are having issues with our hair, we can narrow it down to two things: how we handle our hair and what we put in it. Now, by this point, we all know the basics of what shouldn't go in our hair; mineral oil*, sulfates, parabens, and a host of other things.
However, just because we cut those things out, doesn't mean that all products without them can't be just as harmful for our hair. The main product spelling trouble is hair gel.
Hair gel can be extremely sticky, make your hair rock hard, and can even dry out your hair. Most natural hair gels come with oils* and no alcohols, but even then, it can dry up and turn into a crispy mess.
When dried, gel can rip your hair out during styling and detangling, cause your hair to become more brittle and dry if used regularly without moisture, and can clog your scalp pores; all of these issues contribute to thinning edges and stunt hair growth.
If you use gel, make sure your hair is moisturized and sealed first. Also, do not try to comb or brush the gel out of your hair–rinse it and then immediately moisturize and detangle.
Headbands and Scarves
If you've ever worn a tight scarf to sleep or a snug headband* to keep your hair out of the way at the gym, that may very well be the reason for thinning edges.
When headbands and scarves are too tight, they tend to pull and tug at the hair on your edges and the nape of your neck–creating an unhealthy amount of tension.
Aside from that, tight headbands* and scarves can also reduce circulation in your scalp. No circulation means slow growth or none at all because hair follicles are not as active as they should be. Slow circulation and a ton of tension usually means breakage and balding.
If your scarves and bands are leaving indentations in your hair or causing intense itching and/or headaches, it's time for you to loosen them up! Your best bet is to buy a thick and snug headband* that you can slip on. Try to stay up from thin headbands* and scarves you have to tie in the back.
Change In Weather
When you transition from warmer seasons to cooler seasons, you're bound to run into some problems! Colder weather generally means dry and brittle hair. Of course, if your hair is too dry, it'll lead to breakage and cause some thinning and hair loss.
Since you can't change the weather, what do you do? Change your regimen! Begin moisturizing more often or with products especially made for super dry hair. You can even use a heavier oil to seal in moisture better.
Fall and winter can be brutal on your edges, so on top of switching up your regimen, make sure you are wearing mostly low manipulation protective styles like buns and braids.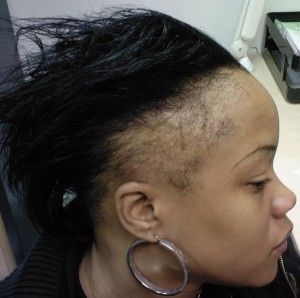 Protective Styling
I know, I know! I just said that protective styles can help you maintain and grow your edges, but they can also be the reason your edges are thinning.
Box braids, full sew ins, french braids, faux locs, and buns are all protective styles that can cause tension and thinning edges if styled too tight or require too much manipulation.
The key to protecting your edges during a protective style is to make sure it require little manipulation and is not pulling on your hair at all during the time you have it styled.
For weaves, make sure your braiding pattern and sew down are not tight to the point of headaches and discomfort. For box braids, choose a length that will not be too heavy for your hair to handle. For all else, keep all styles reasonably loose, but comfortably secure.
Inconsistent Moisturizing and Sealing
Moisturizing and sealing is the key to keeping healthy hair. Period. Not doing it consistently will eventually take a toll on all of your hair–especially your edges.
In my opinion, edges should be treated just like the ends of your hair would be because they are both sensitive to dryness and tension, and need to be protected at all times. If you do not moisturize and seal your edges regularly, they will break, split, and thin.
Your best bet is to keep up a simple hair regimen and routine that incorporates special care for your edges. Even a simple spritz of water and dab of oil on your edges is better than leaving them dry and exposed to all types of possible damage.