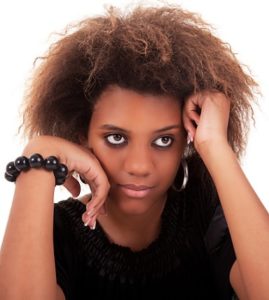 I had never seen such beautiful hair on a real live person. Sure there were models in magazines with sewn in, photoshopped tresses, but she was an everyday person just like me and she had resuscitated her hair to the point where she deserved her own cover!
Years of brainwashing had taught me that those results were too good to be true. She had to have good genes. It was an anomaly. But the before pictures were so drastically different that maybe it had to be something else.
Then I found another person, then another, then another until the myth was busted. That person could actually be me one day. I could have healthy, gorgeous hair.
Many a healthy hair journey has been sparked this way. One person decides that it is time to make a hair change and begin on their journey. Then they decide to share it with the world knowing that this could be a source of inspiration.
We see amazing before and after pictures and something stirs within us. "If she can do it then so can I!" You could be adopting a healthy hair regimen for the first time. You could be transitioning. Whatever it is, the motivation for it all is beautiful hair in the end.
For those of us who have taken those first steps we learn, sometimes the hard way, that as common as positive results are they are not always as simple to achieve.
While we are motivated by the results of others, their techniques often get adopted as rules and when something unexpected comes along we are quick to deem it as failure. One of these "failures" many of us face are thin ends.
Thin Ends The Deal-breaker?
Whether transitioning from one state of hair to another or just adopting better hair practices you will notice a difference between your hair as it grows and your ends.
Oftentimes your ends will look thin and dull in comparison to your new, healthy hair. A lot of women feel the need to cut these ends off as if leaving them there is somehow unhealthy. This may not always be the case.
So When Encountering Thin Ends What Should You Do?
First, make sure that they are not damaged. Thin ends can be caused by a number of factors including being split. If you are trying to avoid cutting your hair, but have damaged ends unfortunately the best step would be to reach for your scissors.
Why? In the case of split ends, it is very likely that the damage will travel up your hair shaft, meaning you will end up with bigger splits and more hair to cut off. It is best to nip them in the bud as soon as possible to prevent more damage in the future. Your hair will thank you.