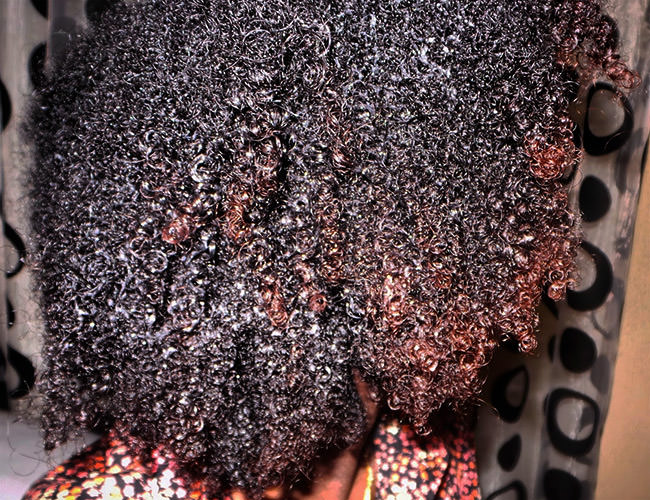 1. You have not been deep conditioning
We stress this probably every day of the week, and every month! If your hair is dry, chances are you have not been deep conditioning* often enough.
Deep conditioning* does not have to be anything elaborate, all you need is conditioner and maybe a little oil for good measure. Every week sit for 20 minutes with conditioner and oil in your hair cover with a plastic cap or bag under a hooded dryer*.
2. Build up
If you co wash with cones or use a ton of oils* on your hair, at some point you will need to clarify and start fresh. If your stand is buried under a ton of stuff it will feel dry after awhile.
Get your shampoo get rid of all the gunk then re condition your hair! (refer to point 1)
3. The environment
Believe it or not our hair can get very dry when exposed to the sun and wind for a very long time. Avoid being out in the sun without a hat or some sort of covering for too long. If you cannot avoid it then come home and immediately moisturize your hair. (refer to point 1)
4. Too much shampoo
Sulfates strip our hair of much needed moisture so if you are a shampoo, squeaky clean type of girl (many of us are) you have to deep condition well to avoid stripping your hair of valuable moisture. (refer to point 1)
5. Too much manipulation
Yes girls, when you touch your hair too much you can remove the moisture you spend so much time putting in, let your hair do its thing without any extra help every second of the day.
The more you pull tug and fluff the more moisture your hair will lose in the process.
6. Neglect
We all love our set it and forget it styles but even when you have a protective style in you have to make sure you are adding moisture to your hair either during or immediately after.
Do you suffer from dry hair, share below on how you got rid of your dry issues?