Afrobella.com
We tackle this subject at least a couple times per year because to be frank, it is a real problem. Imagine: you're in the store, and a lady walks up to you and compliments your hair. You say, "Thank you", and the predictable happens…she reaches for your hair. What do you do?
A. Take a step back.
B. Nicely say, "Don't touch my hair."
C. Make an excuse as to why she can't touch it.
D. Say "Girl, you know you're not supposed to touch people's hair!" in a joking manner.
Well, depending on what type of person you are, any of those choices could work. It can be rude of a person to even reach for your hair, or any part of your body, especially if they don't know you.
Some people are aggressive and outgoing, and they don't mind going out of their way to see if your hair is real, soft, hard, etc, by touching it. It almost makes you want to wear a shirt everyday that says, "DO NOT TOUCH MY HAIR!"
As she reaches for your hair, go ahead and take a step back.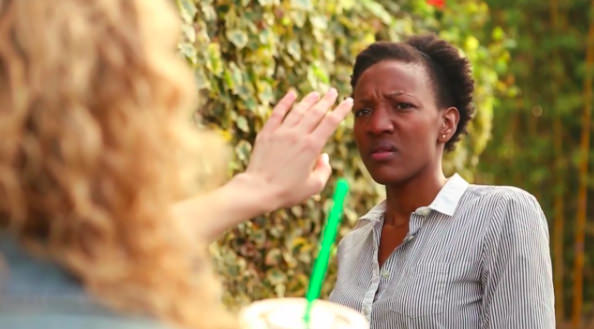 organicbeautyvixen.com
She'll get the point. It may come off as rude to her, but she was being rude by violating your personal space without your consent. Just take a step back and smile. You can also try nicely saying, "Don't touch my hair", but I know deep down inside you're like: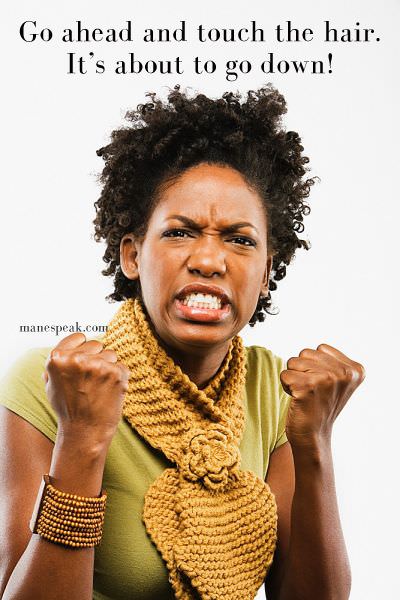 There's nothing wrong with just expressing to people that you don't want your hair touched after you've probably slaved over it to get it perfectly styled. You can't have them tearing down what you built.
We spend hours on our hair, so we don't need anyone messing that up. You can also step back and make an excuse about why you don't want your hair touched.
"Oh, no. I wouldn't touch that if I were you. It's time to wash it. Super greasy!" Jokingly tell her, "Girl, you know you're not supposed to touch anyone's hair. I don't even know where your hands have been."
What about you? Do have any "hair touching" stories you'd like to share? How did you handle the situation, or how would you handle it? Comment below!