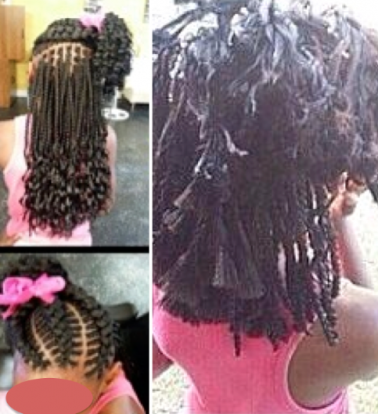 If I could be honest with y'all for a second, there are some posts that we do here that are heavy but they might not resignate with us, we share our opinion and we move on .. Next. There are others that are equally heavy but they tug at your emotions, this is one of those posts.
Let me give you all the summary of what actually went down. Mom drops daughter off 2 hours late to have her hair braided by the stylist. The stylist spends 9 hours braiding the little girls hair, while mom runs errands, around town.
The mom is late getting her daughter and the stylist tries to drop the little girl home on her mothers direction. Turns out the mother sent the stylist to the girl's grandmother's home instead of the actual home in attempt to stall the stylist.
The stylist eventually figures out where the child lives because the child gave directions herself. After giving the stylist the run around, the mom eventually decides that she would drop the payment for the child's hair to the home of the stylist later that evening.
The stylist at this point figures out that there is something shady about the scenario and drives back to the girls home, waits for mom awhile and decides to summon the child outside where she cuts the braids out of the child's hair and then posts the pictures on her Instagram page.
This is what she had to say when challenged about her unprofessional behavior on Instagram:
"I cut the braids out and went on about my business. At the end of the day, I spent 9 hours away from my kids for nothing. Y'all wasn't in my shoes or in my position. I have to take care of my three babies and I will do what I have to do to let it be known that I don't play when it comes to my job or supporting my family."
I get it, you feel bamboozled, or hurt even, but to exploit a child in that manner is never OK, there are civil ways to deal with nonpayment, but cutting that child's hair is not the answer, splashing her picture on an Instagram page is just as shameful because at the end of the day, what in the world could that little girl have done about any of this.
How many of you would have this very stylist do your hair or your daughters hair knowing what you know now? I know I wouldn't, so she stands to lose much more than just 9 hours due to hasty/crazy behavior.
Comment below, what do you think about this scissor angry stylist?