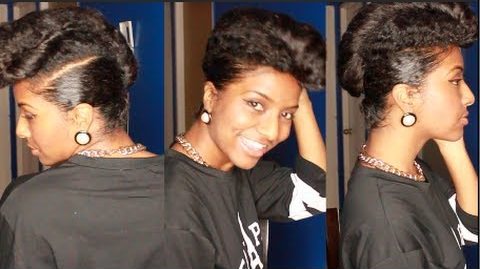 Have you ever made an unrealistic promise to yourself? Well I just made one five minutes ago; I promised myself I would stop looking at YouTube videos that have the focus on hair and hairstyles.
Five minutes later while I was not looking I saw that NaturalNeiicey put out the most amazing simplest hair style ever. This one is really up my alley because it is not complicated, it was perfect for a night out and just like that I was off of my 'all things hair' hiatus gee thanks girl !
Updo's are all about innovation, that's what makes them awesome so even though this style was done on long natural hair it can be great if you have relaxed or medium length hair as well. With that said we wanted to include some options for the same style that you can try whatever hair type or length your are sporting.
Option one
Lose the ponytail holder and create one huge French roll with a twist at the top, this can look dramatically different from the demonstration but still inspired by it none the less. Roll and tuck the hair pinning it with bobby pins* along the length of your head until you are at the very end. This is different from the video because you aren't twisting a long pony tail but rather utilizing the hair in a different manner. Once you get to the end of the French roll you can twist the top and pin it to your liking.
Option two
Do the style while wearing mini twists of medium size twists, Twists allow you to get more control over your hair placement because your hair is more organized. Follow the same method that the video demonstrates tucking your twists neatly creating the same updo but with a textured twisted flare.
Option three
If you are rocking straight or relaxed hair a great way to put a spin on the style is to actually to again skip the ponytail holder all together. Starting from the nape of your hair start twisting and pinning until you get to the top of your head. You will notice at this point you will have some free hair that you will need to do something with. You can add perm rods* to those free ends or use a heating wand to make cute spiral curly bangs. Have fun with it, and add as many bobby pins* as you can to make the style neat in the areas that should be neat.