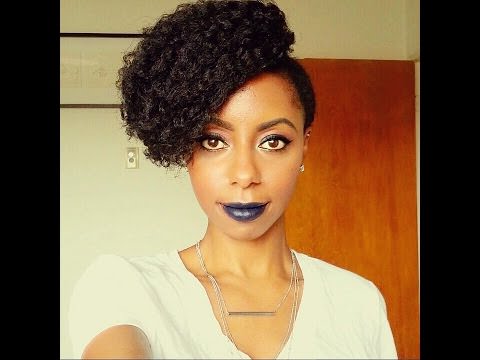 Going on a spicy date or to a hot cub? Need a sexy hairstyle to match your just as sexy outfit? Well we have the hairstyle for you! Below, YouTuber Jesica Pettway shows us how she achieves her Edgy Updo on 4C Natural Hair.
This tutorial calls for French braids, but you can easily replace this with French twists if you are not to experienced with braiding. This hairstyle is a great hairstyle to customize and make it your own.
Products Used to Achieve This Hairstyle
Moisturizer– In this tutorial, Jessica Pettway uses two moisturizers: CURLS blueberry bliss curl control paste and Shea Moisture* Coconut and Hibiscus Curl Enhacing Smoothie. You can choose to use these moisturizers or your use your favorite moisturizer or mix of moisturizers like Jessica Pettway.
Oil– In this tutorial, Jessica Pettway uses Mielle Orgnaics Mint Almond oil* but you can use any oil that you fancy.
Control Paste– CURLS Crème Brulee Whipped Curl Crème is used here bu you can use any control paste that you would like. If you do not have control paste, then you can easily substitute with gel.
Bobby Pins*– Bobby Pins* are used to hold the French braids in place.
Rattail Comb*– A rattail comb* is used to create clean sections.
Hair Clips– Hair Clips are used to separate hair sections.
If you do use rubber bands, make sure to lubricate them with oil. This can help reduce any possible breakage from the hair bands* and friction with your hair.
Length Needed To Achieve This Style This style works best on short-medium to longer hair. This hairstyle is also achieved on stretched hair which you can achieve through stretching methods such as twists, banding, braids, etc. This hairstyle can also be done on transitioning and relaxed hair as well.
In the video below, Jessica Pettway shows us how she creates her Edgy Updo, check it out below: