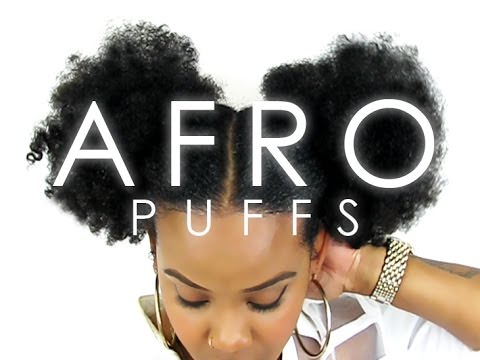 Styles and trends tend to come back around full circle; what was hot back in the day will at some point become hot now, without a doubt. Afro puffs are kind of like that; they were the style you wore as a little girl, but then we got 'ruff and stuff' with our Afro Puffs, as we got older!
We have seen Lauryn Hill, Erykah Badu, Jill Scott, and even Beyoncé rocking this style. It almost kinda gives you a 60's, soulful feel. Some women even go as far as adding Afro hair wig* pieces, or drawstring afro ponytails to their hair to achieve this look. The style is packed with flava, and is the simplest of hair styles to do. So if you are interested, then keep reading:
1. Preferably, you'll want to start out with clean hair. If you'd like your hair in its stretch state, then by all means use your normal stretching techniques to get that look.
2. Grab the tools and products you'll need. We suggest a great moisturizer, some gel, a toothbrush for those edges, and hair ties*.
3. Part your hair down to the middle. You can be creative with this part. A zig-zag part can look awesome, if you know how to do it, or you can just do a straight line.
4. Slick your hair by grabbing your gel and applying it thoroughly using a brush, and make sure that every hair is laying correctly. You can always dampen your hair to get excellent results.
5. Depending on the length of your hair, that will determine how many times you'll wrap your hair tie around. If your hair is medium length or a little shorter, just place the hair tie around the hair to form bigger puffs.
6. Fluff or pick out the puffs to the size you like, and do one final touch up to the edges.
This style is really cute for those final summer barbecues, movie night with the girls, or just if you like to have a little fun with your natural hair.
Check out this video to see how Yolanda did her puffs from start to finish: