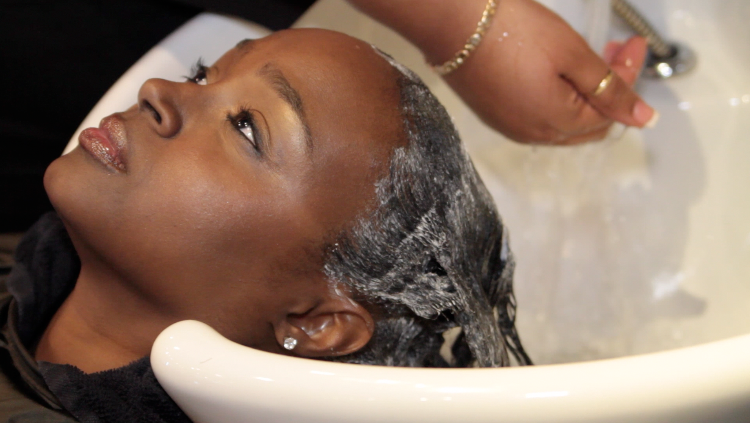 So, you've just gotten a relaxer and are now ready for your first wash, but you don't know what to do. Trust me, you are not alone! After I received my first relaxer during my HHJ, I searched and searched through forums and other blog sites for what I should do on my first wash.
However, I found nothing. Well, nothing in detail anyway. So, I had to figure it out for myself. Chemical relaxers (or any chemical treatment) remove the natural oils and protein in the hair. So, you'll want to work towards restoring some of this with your post-relaxer wash day. Here are the steps to follow:
1. Shampoo – You are going to want to wait at least 7-10 days after your relaxer to wash your hair, so if you're like me your scalp will be a little dirty. Sulfate free shampoos are best, because sulfates will dry out your scalp even further. Here are some good sulfate free shampoos: Giovanni Tea Tree Triple Treat Shampoo, TiGi Bedhead Superstar Shampoo, Pureology Super StraightShampoo, Kenra Platinum Color Care Sulfate-Free Shampoo, Matrix Biolage Normalizing Shampoo, Abba Pure Moisture Shampoo, Aubrey Organics Green Tea Clarifying Shampoo, Avalon Lemon Clarifying Shampoo, Creme of Nature
2. Protein Treatment – Relaxers break the chemical bonds in in your hair converting cystine to cysteine. So you need to give your hair some of the strength that it has just lost. You don't want to use too much protein as you could end up breaking your hair off in its already fragile state. So, here are some light protein treatments you can use: Vital Olive Oil Hair Mayonnaise, Hydratherma Naturals Amino Plus, Protein Deep Conditioning* Treatment, Organic Root Stimulator Replenishing Pak Conditioner, Creme Of Nature Conditioning Reconstructor, Motions CPR Protein Reconstructor, Mane N Tail Original Conditioner, Lekair Cholesterol Plus, Africa's Best Organics Hair Mayonnaise, Elasta QP* Fortifying Conditioner, Elasta QP* Breakage Control Serum, Aphogee 2 min Reconstructor, Creme of Nature Reconstructor, Aubrey Organics GPB, Ultra Black Hair conditioner, TIGI Catwalk Oatmeal and Honey Conditioner, TIGI Dumb Blonde Reconstructor
3. Deep Condition – In order to prevent breakage, you want to make sure you have a good protein-moisture balance. So, you'll need to follow your protein treatment with some deep conditioning*. Apply the conditioner and then put on a plastic cap and sit under a heating cap (if you have it) for at least 30 mins. Check to see that the bottle says "heat intensive". Here are some good choices: Motions After-Shampoo Moisture Plus Conditioner*, Doo Gro Deep Down Intense Penetrating Conditioner, Aubrey Organics Honeysuckle Rose, Elasta QP DPR-11*, Lekair Cholesterol*, Queen Helene Cholesterol, KeraCare Humecto Creme Conditioner
4. Moisturize – You need to use a water-based moisturizer. Water is the best source of moisture for Black hair. Avoid moisturizers that contain mineral oil*. There are several great choices out there, so try to find what works for you. If you have one that you're already using that works keep it up. But here are some other choices, if you need them: S-Curl, Sta-Sof-Fro*, ORS Olive Oil Moisturizer, Hollywood Beauty Olive Cream*, Motions Oil Moisturizer Hair Lotion, KeraCare Oil Moisturizer with Jojoba Oil*
5. Seal – To seal in the moisture you have applied you'll need a light oil. Thick/Heavy oils will leave your hair weighed down and lifeless. Good oils to use are coconut oil* and jojoba oil*.
6. Style – Since your hair has just been through a harsh chemical treatment, I suggest limiting heat usage. You can do a roller set or find some other method of air drying your hair. It took me months to figure out how to properly air dry my hair. I had to look at several YouTube videos before I could figure out my method.
Like I said I figured this all out by myself, so, this is not expert advice. It worked for me, so, I really do hope it works for you. The products I listed are simple suggestions, I do not even use some of them. Ultimately, you have to find the products and system that works for you.