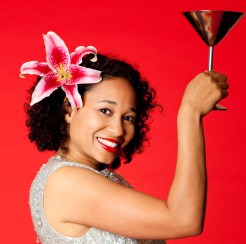 Unbelievably it is that time of year again when all the end-of-year office and family festivities demand that you get glammed up. It's relatively easy to pick out what to wear to these events but when it comes to your coif, well that's a different matter all together.
From Thanksgiving to New year celebrations, your hair must top off your look perfectly; after all it is your crowning glory. The beauty of relaxed hair is its versatility; this permits various styling approaches for that polished flair.
An elegant way of wearing your hair during this festive period is in an up-do. Up-dos have come a long way since the stiff beehives of the 50s and are now very modern and flexible. The secret to wearing an up-do elegantly is choosing style that fits your face. So for example, if you have squarish angular features, you may want a style that doesn't pull away from your face severly but frames it softly. You may also want to incorporate tendrils around your face and wear the hair loosely. Another great tip for choosing this style (or any other style for that matter) is to refer to a picture of a celebrity or a friend who has similar features as you and has achieved the look you desire. With the picture in tow, your stylist should be able to replicate it for you.
If you are having a go at achieving the up-do yourself, be careful to section your hair appropriately and use the right styling products, flat irons* and curling tongs (it is always helpful to have someone assist you though). Always remember to go easy on the hair products; too much styling mousse or hairspray and you may end up with a rigid mess.
During this season, hair accessories are key; they add that final finishing touch to your coif. Perfect for this time of year are the bejewelled kind that would catch the light and add that extra glimmer. Whether you opt for barrettes, mini-tiaras or fancy hair-combs ensure that they are tastefully positioned in your hair for the maximum effect.
Remember that what you consume is reflected in the quality of your hair so while you are making merry during the holidays, remember to stay hydrated with non-alcoholic beverages and eat balanced meals. Minimise product build up in your hair from constant styling by getting your hair washed and treated regularly. Happy Holidays!