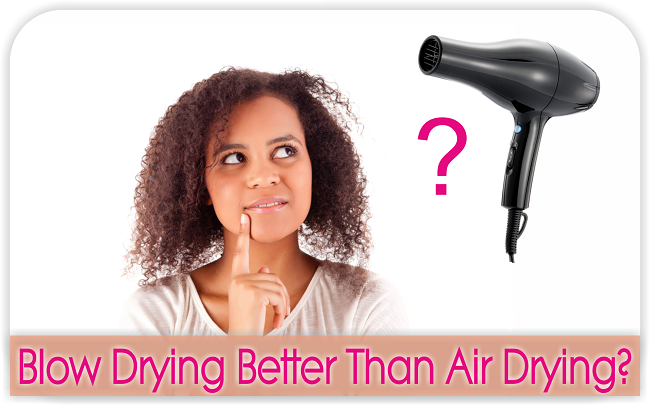 Well ladies, are you a blow dryer* type of girl or do you just depend on natural air to do your drying for you? As I said a few weeks ago, I have been delving a little into the science that is haircare and I have been discovering some alarming things that you might have come across as well. Whether you use a blow dryer* or air dry, you might want to sit up and pay attention to this!
Do you remember when you began your healthy hair journey and you were told that one of the sins of healthy haircare is use of heat? You were cautioned about the dangers of using heat and so, not wanting to stunt your progress, you swore off your hair dryers*, flat irons*, curling wands* and just about anything that would make you a transgressor (you probably even pawned them off in a yard sale).
Of course, as you became wiser to the dos and don'ts depending on what your hair responded to as well as information on the discussion boards, you amended the "absolutely no heat" stipulations to "maintaining a healthy relationship with heat".
This amendment caused you to relax a bit and resolve to take chances with indirect heat from your hooded and hand-held dryers, while limiting the use of direct heat to once or twice per month or even yearly.
Now at the risk of rocking the apple cart, we must share a study that purports that blow drying your hair is actually safer than air drying. I can almost see some of the eyes bulging at that and I for one know exactly how you feel.
When I first came across this study I said to myself 'I wonder which dryer manufacturer paid for this study to boost sales,' then my more level headed nature took over.
To be honest, it is not as though this is way out of the ball park. It is not that far fetched at all when you consider that the hair must expand to hold water and lengthy drying times can cause hair to be in a fragile state since wet hair is quite vulnerable. We have written about hygral fatigue on BHI before, which is hair weakening due to constant exposure to water.
On the flip side, heat causes the cuticle layer to raise, allowing shingles of protein to shell off and cause gaps in the shaft if you are not careful. This caused me to look beyond the title and sift through the scientific explanations and findings.
The Study
The study was done in Korea by Yoonhee Lee, M.D., Youn-Duk Kim, M.D. and Won-Soo Lee, M.D. and is recorded in the Annals of Dermatology. They looked at the effects of washing and drying hair at least once for thirty days consecutively.
They tested five samples of virgin hair; one received absolutely no treatment, another was shampooed then air dried at 68°F, while the remaining three samples were all shampooed then blow dried for varying periods of time at varied temperatures and distances. It looked something like this: