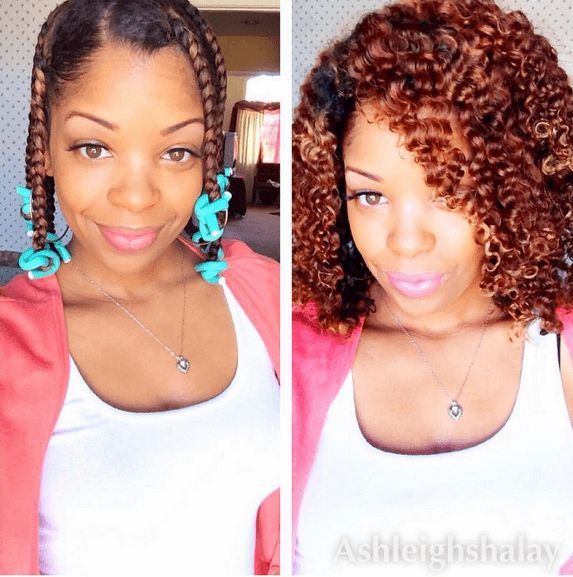 Sometimes perfecting a braid out can be very difficult without practice or a great technique. Here are nine steps that you could try in order to acheive the best braid out ever:
1. Separate your hair into 4 sections for ease of manipulation. Apply your favorite oil to each section before shampooing to add a little moisture to the hair helping to reduce the stripping effects of the shampoo once applied to the hair in the next step.
2. Shampoo the hair in sections paying close attention to the scalp gently removing buildup and any old product that may be weighing the hair down. TIP: if you need a more clarifying effect put some diluted apple cider vinegar* in an applicator bottle* and apply it all over the scalp for gentle clarifying.
3. Using your favorite conditioner hair directly after shampooing to add moisture back to your locks and help with detangling. Tip: use the shower stream to help with detangling, water will literally melt tangles away and make it a lot easier for you as you prepare to braid.
4. Apply more conditioner to each section after you have thoroughly detangled preparing the section for braiding. Separate each section into two and begin braiding while in the shower. I know this is weird but with the conditioner and the water braiding is a breeze, braid quickly as moving through each section keeping the braids tight so that you can remove excess water from the strands
5. Once you are done braiding exit the shower and grab your favorite leave in conditioner*, apply the conditioner to the length of each braid concentrating on the ends. As you apply the leave in squeeze the braid to remove the excess water this will speed up drying time
6. Time to seal: Using your favorite oil seal each braid to lock in the moisture that you have placed in your hair from the water and the leave in conditioner* applied.
7. Allow the hair to dry overnight or as you run errands all day
8. Release each braid once the hair fully dried
9. Style the hair as you see fit, the textured look is great for high buns and side swept bangs
Pros
Stretched hair– Braiding the hair in the shower in comparison to twisting stretches the hair as the water is squeezed out more effectively and reduces hygral fatigue of the strand which often contributes to shrinkage.
Less product– Because you are not applying a ton of product, your hair should feel light and moisturized instead of heavy with product.
Cons
Wasting water as you braid in the shower – Let's face it, as effective as the shower stream is in detangling the hair, having the water running as you detangle and braid will certainly lead to more water wasting in comparison to just using a spray bottle. Not great for the environment!