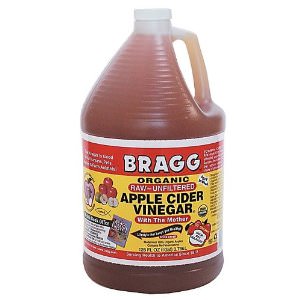 The misconception associated with the reasons behind thinning and hair loss is still widely argumentive & misunderstood. There is more evidence that a hormone called DHT is responsible. Both men and women have it. Alopecia hair loss is thought to be pathogen related. Studies show that over time, an excess build-up of DHT in the follicle causes them to begin shrinking, which changes the natural resting and growth phases of the hair. DHT builds up around your hair roots like wax. Some of the follicles eventually die and others become incapable of producing or maintaining healthy hair growth, resulting with hair loss.
Organic & Natural hair care companies such as Hair Be Silk's Hair Champagne are made with organic apple cider vinegar* as the main ingredient. The tea tree oil* combined with the Apple Cider Vinegar rinse slows hair loss and cleanses the scalp and promotes new growth by unblocking hair follicles and stimulating scalp circulation. The acids and enzymes in this treatment may kill the pathogens associated with Alopecia hair loss and irritated scalp and shampoo buildup.
Benifits:
Will not interfere with color. Color safe.
Natural/Organic
Encourages healthy hair growth.
Prevents dandruff and scalp itch.
Kills fungus and bacteria & cleans dirty scalp.
Removes build up from hair and scalp.
Dissolves DHT residue.
Nutrients nourish follicles.
Unclogs follicles.
How To Use:
Once a month or bi-weekly to remove build up and to maintain your scalp & hair health. Shake well. Before shampooing apply an adequate amount to your scalp. Massage your scalp gently. Leave the rinse on for one to three minutes and then rinse well. Follow with an Organic or Natural Shampoo & Conditioner, and style as usual. Excellent for keeping in new color. Color safe.
Ingredients:
Ingredients in any natural vinegar rinse will vary. It is off course, essential that the Organic Apple Cider Vinegar is the main ingredient. However, other additives may be added such as:, Tea Tree Oil*, Peppermint oil*, Distilled Water, Lavender, Aloe Vera Leaf Gel, Marigold Extract, Andiroba Oil, Chamomile Flower Extract, Rosemary Leaf Extract, Essential Oils* of Sage, Vitamin E. Just to name a few.
Apple Cider Wonders:
It is the bomb for removing styling build up from the hair such as too much conditioner, hairspray build-up, etc. It really cleanses the hair and scalp without leaving it dried out. All natural with no harmful chemicals. The Organic Apple Cider Vinegar rinse clarifies and restores shine. This sort of hair and scalp rinse is a 'Natural Gal's' must have. It is also a commodity for those with relaxed or over processed hair. The best part about an Organic Apple Cider Vinegar* rinse is the removal of buildup and the cleansing properties it provides. There are those who also like to make their own Apple Cider scalp rinses. With a blend of herbs and organic apple cider vinegar, this too can be done. The Hair Champagne by hairbesilk.com is a truly amazing product. It Softens hair without stripping and restores pH balance. Great as a post-chemical process treatment to seal in color or curls. Use weekly as a treatment to rid your hair of dulling buildup.
Chemical Free:
We are all given an equal chance. Since we are born with healthy hair, we should and could maintain a head of healthy hair. As children, we had beautiful, baby-soft, luxurious, shiny hair. Subjecting our hair to alcohol-based hair sprays, chemical relaxers, blow dryers*, and styling irons all cause tremendous damage. But don't give up hope. Instead, next time you wash your hair, reach for an Organic Apple Cider Vinegar hair rinse. By nourishing it with natures own products; conditioners like that in which is contained in an Apple cider rinse, will your hair's shine come to life. Hair this healthy will be addictive!