On BHI our mission to to teach women of color to grow long hair but 'long' means different things to different people. When we first begin our hair journeys, we have hopes and dreams of hair swinging in the wind lapping at our waists but is this even possible for all black women?
Before we get started, this graphic below shows different hair length terms.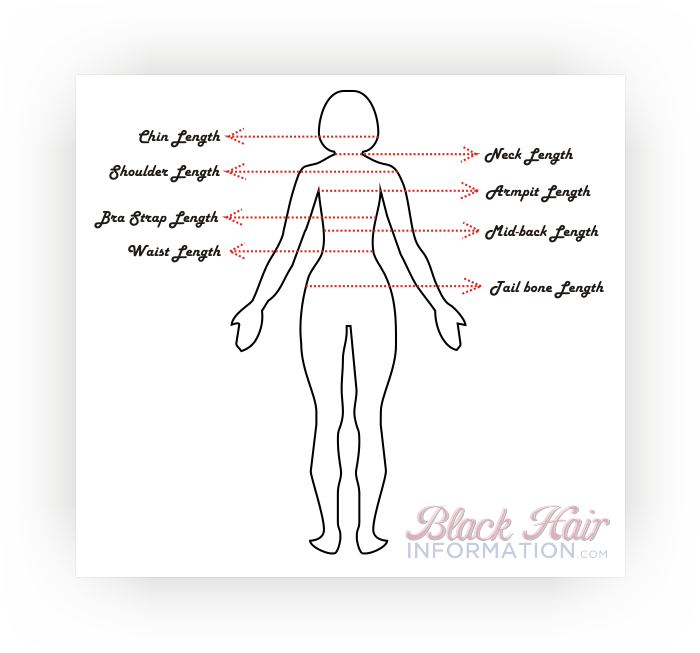 Hair grows at a genetically pre-determined rate, the rate that you will often hear quoted is an average of 6 inches per year but in truth, the rate is 4-6 inches per year. It tends to be faster in Caucasians and Asians and slower in people of African descent, mine is only 4 inches per year.
A strand of hair can only grow for so long and this period (anagen phase) ranges depending on who you ask from 2 to 6 years with men having shorter anagen phases than women. Even though different strands may be at different stages in their cycle, about 85% of your hair will be in anagen phase at any one time. The anagen phase is clearly a big player when it comes to determining the length of hair.
So what is terminal length? Terminal length is the maximum length that a strand of hair can grow, if it never broke and was never cut, from when it sprouts out of your scalp until it eventually sheds. It's a simple formula really, Terminal Length = Growth Rate x Length of Anagen Period.
There's no denying that an individual's growth rate and the length of anagen period is genetically predetermined and as such, so is the terminal length. That being said, its clear that majority of black women have never reached their terminal length. Even if you didn't cut your hair, a certain amount of breakage is inevitable which makes true terminal length an elusive prospect for most of us.
So the question is, will you ever have long hair? Let's do the math. Let's put you right in the middle of the figures I have already quoted with a growth rate of 5 inches per year and an anagen period of 3 years. This would give you 15 inches of hair as your terminal length. With an average height woman in the USA being 5′ 4.6″ that would be close to waist length hair. Long? I think so!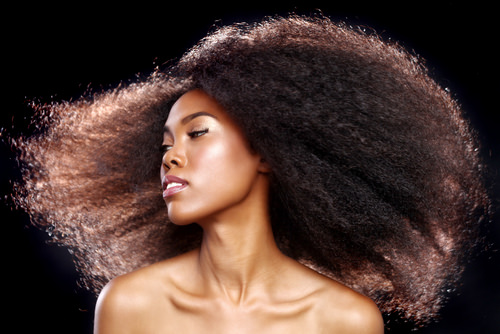 If you prefer to be a bit more pessimistic, let's assume that you get only 4 inches of hair per year with an anagen phase of just 3 years, that would be 12 inches of hair as your terminal length which would fall to bra strap length for an average height woman. I don't know about you but BSL is 'long' hair by anyone's standards!
From my very unscientific observations, many white women tend to keep their hair between arm pit length and mid back length so BSL is nothing to sniff at. These figures will vary of course from person to person depending on their anagen phase, growth rate and height.
A quick word on dreadlocks. They appear to grow longer than hair worn loose simply because shed hairs are usually incorporated into the dreadlock and do not fall out as they would in loose hair. Don't assume that a person who has grown dreadlocks down to their knees can also grow their loose hair to this length, even without breakage!
Figuring out your own terminal length is difficult at best. We should be concentrating less on the genetic side of things and more on maximizing the retention of the length that we do get, hence coming as close to terminal length as possible.
Without doubt, the best way of retaining length without interruption is with protective styling combined with a good hair regimen. As long as you are not trimming your hair during the 'grow out phase', your protective style will prevent any breakage that will interfere with you getting as close to your terminal length as you can.
When you first begin your hair journey, give yourself at least 3 years or so of dedicated protective styling. At the end of this period assess your length. You may then decide to go for an extra year of protective styling. If you see little to no difference then you know that you have reached your terminal length.
Protective styling doesn't have to feature much in your regimen once you are at your terminal length, a good regimen will be able to keep you within an inch or so of this length with the growth your achieve offsetting your breakage. I've said this before but I'll say it again, it's helluva lot easier to maintain length than it is to achieve it in the first place! Happy growing ladies!