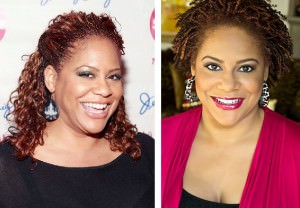 I remember Kim Coles from back in the day on Living Single (loved that show!) but she doesn't show up on our screens that often on this side of the pond unfortunately. In fact, apart from her little stint as Dr. Mary on Frasier, I would have all but forgotten about her.
Anyway, like many, many, many black women around the world, she has ditched her relaxer and micro braid hair extensions*, which she had been wearing for 20 years, and gone au naturel.
I tend to over-think things especially when yet another celeb joins #teamnatural. Is it just another punch in the face for #teamrelaxed or is this the body blow that will unravel the whole relaxer industry and bring the giant crashing down? Yes, I already told you about the over-thinking!
On a serious note however these days we hear lots about celebs and other women who transition to natural but there are a few out there who have also given up their natural credentials and returned to relaxers. Bnatual who featured her hair story on BHI a while ago had the most gorgeous mane of natural curls but in November of 2011 she decided to relax again (based on her fotki album). Her hair is still gorgeous, long and healthy, touching waist length when I last looked, even as a relaxed head.
I know people find it strange that I support relaxed hair when I am natural myself but I am very much pro choice. Still I think that relaxed ladies should be sure about what they are choosing. Natural hair is stronger than relaxed hair, of that there is no question and many of us would find it easier to get the long locks we want by going natural, a 'cheats' way to long hair if you will.
I do still hear a lot of women dismiss the idea of going natural off-hand by making comments like 'My hair is too nappy', 'I couldn't put up with it' etc without ever actually having tried. I know of people who have had natural hair in their adult life and didn't take to it very well, they are perfectly happy now with relaxed hair and don't want to change it. Even in this current pro-natural climate I believe that stance is both right and very admirable.
But for that one person who's on the fence, you don't really remember your own texture, you are curious to see what it's like but you are scared. By all means take the plunge to share in the glorious wonder that is natural hair, you may just take to it like a duck to water. Check out my pinterest board on natural hairstyles and get inspired!
Bottom line, our focus should be less about #teamnatural or #teamrelaxed, it should be #teamhealthyhair. Cheesy but true! Anyway, back to Kim Coles, she has always come across as a genuine person so I wish her best in her journey, see her youtube video below: