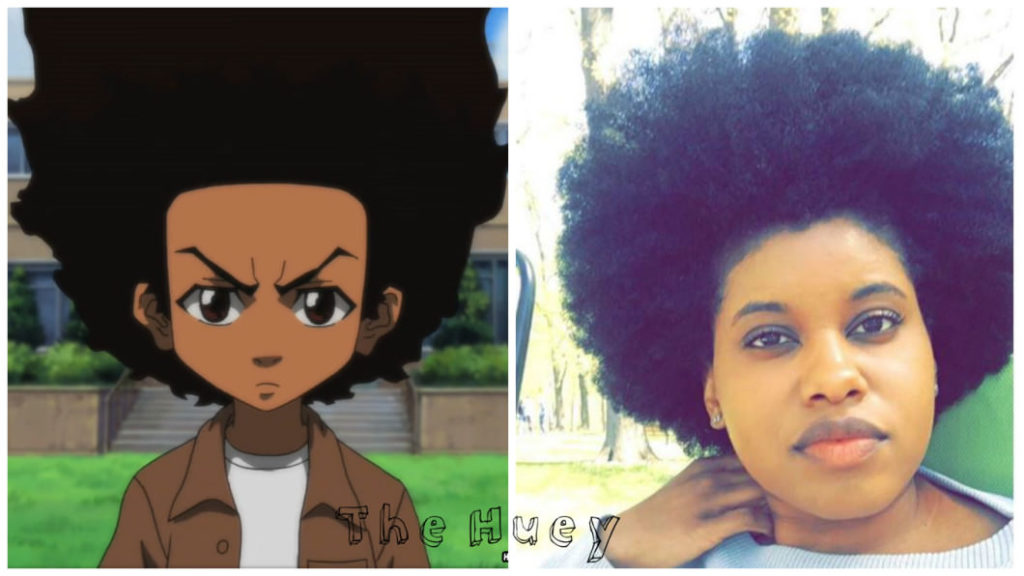 When I was younger, I remember watching the Boondocks and reading the comics. In that show, Huey was the older grandson of Robert Freeman and an intelligent, radical martial arts fighter all while rocking an 'afro' half the size of his body.
While watching the show, I admired yes, of course, the creativity of his hand to hand combat fighting skills, but I have to admit I loved how his afro blew in the wind.
I love the style so much that I myself have rocked 'the Huey' for two weeks straight and I want to teach you all how to do it.
First, you must shampoo, condition and deep condition your hair thoroughly so that it will be easy for you to detangle.
Next, — detangle your hair using a large comb using this method:
Part hair into even sections and secure with duck bill clamps.
Spray each section with water.
Moisturize each section with oil. My favorite oil is coconut oil* because it is able to penetrate the hair shaft and leave my hair beautiful. You can also add in other oils* like almond, castor, or a mix of oils* including essential oils*.
Comb each section with a detangling comb.
After you have combed the section, put the section back into the duck bill clamps, you can also opt to do individual twists to give the style some texture because Huey has a lot of texture.
After combing the sections, take the hair out and comb the ends with a wide tooth comb*.
For the 'Huey' 'fro, you should not shoot for perfection so look to adjust the style but not too much. Shake the hair in the mirror a few times and you are done.
Do not add any accessories, the 'Huey' is enough of a statement on its own, you do not need to add anything. This style is best served with confidence so please before you walk outside, know that you are beautiful no matter what is on your head.
For regular maintenance every night when you go to bed, you can band your hair and tie it with a silk hair scarf. Also, every day when you wake up, take off the band and fluff the hair lightly while spritzing it with water and oil.
Would you try "The Huey"?