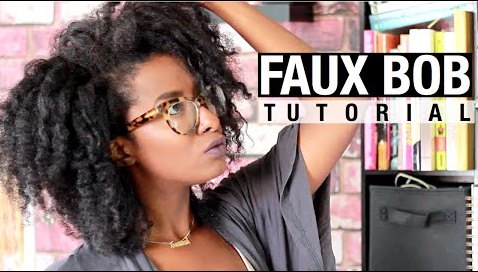 There is nothing like a Faux Bob. I mean come on? How many styles out there can work as a protective style and save you from giving yourself a drastic hair cut, due to a loser ex-boyfriend that didn't deserve you in the first place? I digress. There is something mystical about the transformation that a girl can receive with a faux bob that's just so darn mesmerizing!
Now when we usually see Faux Fobs; they are usually done with hair that is straight or wavy. For us girlies that have naturally kinky* or curly hair, and do not like to use heat or other types of straighteners, this can kinda shy us away from doing this hairstyle. Well, be shy no more! YouTuber Ambrosia Malbrough shows us how she transforms her stretched natural hair into a fun and funky faux bob.
The Products Used
Bobby Pins*– 4 bobby pins* are used by Ambrosia in this video, but you can use more or less, depending on the length and/or pattern of your hair.
Moisturizing Spritz– For this tutorial, Ambrosia uses the Carol's Daughter Black Vanilla* Leave In Conditioner* mixed with plain ol' H2o. You can substitute this for your favorite moisturizing spritz. She evens suggest using just plain water, or a mix of your favorite conditioner with plain water.
Length Required
This hairstyle is best achieved on medium to long stretched hair, but you can also modify this style on shorter stretched hair as well. You can stretch your hair via Twists, Braids, Flexi Rods*, Banding, etc. Those of us with Transitioning and Relaxed hair can also rock this style with ease. And if you do not want to stretch your hair, I do not see why this style cannot work on shrunken hair as well!
Here, in the video below, Ambrosia demonstrates her easy and no fail technique on creating her Faux Bob look!
I hope that you guys enjoyed this tutorial! If you're thinking about trying this style (or not), hit us up in the comments below!