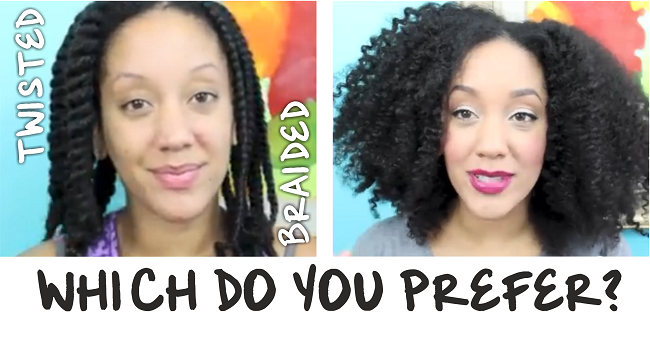 Inquiring minds would like to know, are you a braid out kind of girl or are you a twist out kind of girl? I will go first! I am a braid out kind of girl all the way, hands down, no holds barred, without a doubt my holy grail hair style. <— How did I get here?
Well it is simple really, I wanted more "stretch" out of my hair, I was tired of battling with single strand knots and tangles and all the craziness that comes with super fine but thick natural hair and for some reason my twist outs were always super "shrinky" and just did not act right. Braid outs give me the luxury of stretched hair along with the full body look I like.
With all that said, both styles are merely a matter of preference, there is not one better than the other both have their pros and cons and even then your pros and your cons might not be the same as curly Donna's down the block. Generally though, braid outs can be more defined and less "good frizzy" than a twist out. That isn't necessarily a bad thing, its just is what it is.
Either way, to get the best of either of these styles, the key is really the product, remembering that less is more and ensuring that before you get to the styler, your hair is super moisturized and sealed.
Choosing the styler is super important as mentioned and it really depends on what kind of hold you are looking for. My preference is a light hold for a fluffier look, but a hard hold can work as well because your hair will remain more defined for longer and will get fluffier from day to day.
We love BargainPrincess because she is always so bubbly in her videos, and we thought we would share her version of the braid out vs twist out dilemma and see which side of the fence she falls. After you watch the video comment below and let us know what is your preference!