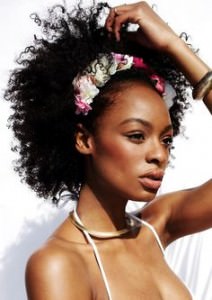 6. I was more creative and I was more patient
You never know how innovative you can get until you are painted into a corner. I loved wearing wet buns but on the days that I needed a bit more, I would get my flowers and bobby pins* and create something I would never have done before 2008.
When you get creative, you also develop acceptance which means you can look in the mirror and say, 'yes I like that!' and walk away. Along with creativity I had to learn to be patient. Allow my hair to grow without measuring it every second, and getting though bad hair days without giving up.
Patience is something you never ever stop utilizing even when your transition is over, so it was good to have practiced that skill early in the game.
7. Eating well is therapy
I am not perfect; I hate carrots and I hate beets, so this has been a struggle, but I had my Green Vibrance for the days I didn't juice, and I juiced on the days I felt inspired. For some reason going natural meant that you needed to have a banging body and to do that your diet along with your exercise needed to be on point.
There might be something a little bit deeper to this though, because some of us if we were truly honest with ourselves we would admit that we were not sure how we would look as adults with natural hair so we had to make sure everything else was on point just in case we might be slightly uncomfortable.
This means that having an amazing body became a bit of a crutch. Suddenly we want to be super toned, or vegan, or something else in addition to being natural. Oh don't act like you never ever do that too; we all need red couches at some point in our lives (at least I can admit it!)
Well that's it: enjoy your transitioning journey – I know I did.