Travel season is upon us and a lot of people travel during this time to be with family and friends or just to get away from the cold. I am travelling too and with three girls in tow I need some great styles that all of us can wear without any hair problems.
Box braids
I love the box braids even though they take the time to install they are worth it in the end. If you are flying a long distance flight, this is a convenient style.
You can sleep and still wake up with your style intact not to mention it is easy to maintain the style, which can be achieved by just spraying leave-in conditioner* and an oil to seal.
If you are visiting a very hot and humid place this is the style to rock and if you sweat a lot, you can just run water over them in the shower and wrap a towel for short time to catch any dripping water. The braids can air dry with a little bit of oil to keep your own hair healthy.
French Braids
If you do not have time get box braids installed French braids are a quick and easy style to do. To wash them I prefer to undo them then run water in the shower, after that seal in the moisture with an oil and re-do the braids again.
It would take less than 10 mins to redo the style tieing a scarf for approx. 30mins to make the hair lie flat. The style should last for 3-4 days at a time.
Buns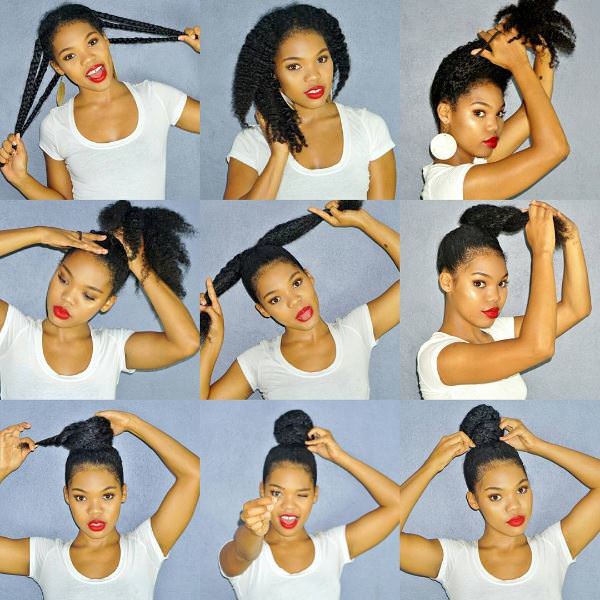 Buns are cute and easy as well. It takes me less than 3 mins to style. They are easy to remove, wash and restyle again. I love the bun because my hair ends would be tucked in and they stay smooth and soft. If you are going to a Tropical country, the wet bun is an awesome option!
Faux Pony Tail
This is another easy and quick style but I do not like to have my hair ends out especially if I am flying so just get some old hair and create a faux ponytail.
If you do not know how to do a faux ponytail watch this quick video: