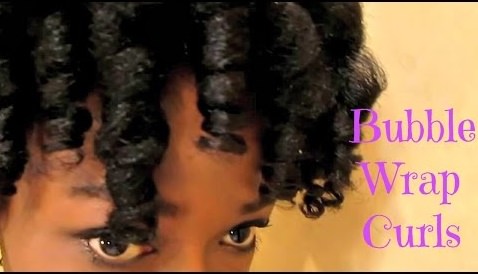 Flexi – Rods! Perm Rods! Curlformers! Us girls know so many ways to create some great curls. For centuries, we have used so many methods to transform our hair into beautiful spirals and loose waves, and with all of that innovation, you would have thought that we came up with every curling method in the world.
NOPE! Get this: gorgeous YouTuber, Pure Estrogen, has shared with us a new curling method using: BUBBLE WRAP. Yes, bubble wrap. So I have one question, because I know that you probably have many. Are you ready to check out how this method is done? Well if you are, just keep on reading!
Products used in this tutorial:
Bubble Wrap – If you've recently ordered something, then you might be in luck – if not, then you can try your closest postal station, or Amazon. The bubble wrap would then be folded to make the rollers to curl your hair.
Fine Tooth Comb – Used to smooth your hair before wrapping. Remember to not use a fine tooth comb to detangle, or else your beautiful hair may be shredded to ruins :/ You can either detangle with a wide tooth comb, or your fingers beforehand.
Hair Moisturizer- In her video, Pure Estrogen uses African Pride Shea Butter Miracle Moisturizer, but if you have a moisturizer that you absolutely love to use for your hair, then please feel free to use a different moisturizer.
Setting Lotion (Optional)- Pure Estrogen does not use a setting lotion for her curls in her tutorial, but if you want a stronger hold for your curls, then a setting lotion such as Lottabody should do the trick!
Hair Length Required for this Style:
The good thing about using bubble wrap as rollers is that you can adjust the size of the roller, which makes it perfect for any length and any type of hair. You can also accomplish this hairstyle on relaxed and transitioning hair as well. Pure Estrogen does her rollerset on stretched hair, which you can achieve via Bantu Knots, Twists, Braids, African Threading, Banding, etc.
Here is Pure Estrogen demonstrating her bubble wrap roller setting technique:
Would you ever try Bubble Wrap Curls?